This page is reserved for the SuperWikia ' Supermodel: Romy Centurion '.
Newly Empowered Campaigns
Edit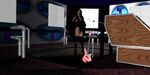 Romy Centurion is one of the most popular supertaunt artists in the Solosphere. Her next-generation music has put her in the record books as being an asset to the industry.
Origins of the Supergen
Edit
Discovered as a latina prospect at her local high school talent show, she launched a career as a supergen and has tour with such names as Lucky Sunset, Supermodel: Satel Satel and many others. Hit the main streamcast circuit as a true supergen on her first major tour, she has remained on top every since.
Database Contributions
Edit
Romy has been listed as one of the most popular Latina supergens of SuperWikia, amassing a coverage of more than 5 solarstates and tourdates reaching countless cities.
Names & Faces
Edit
Business Mogul Jason Zacharhy Berthgamble and his wife Knowles Berthgamble have supported a winning formula in producing Romy's first promotional tour; including production work at the SuperWikia Supergen Theme Park, as seen above.
This page is currently in buildup mode.
Community content is available under
CC-BY-SA
unless otherwise noted.